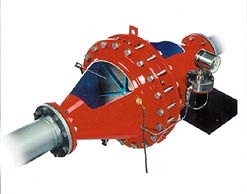 Protego Deflageration
Demands and requirements in regard to safety have been increasing in recent years particularily in the handling, storage and transporting of combustible vapours and products.
Protego have been at the forefront of these changes and have established themselves as one of the major manufacturers of Hydraulic, Detonation, Deflagration and end of line Flame Arresters.
View Protego Flame Arrester in action.
Click here for .avi 614kb
Click here for .mpeg 430kb
Deflagration Arresters prevent flashback if a deflagration occurs in a pipe. The application of Deflagration Arresters is limited. The pipe length between arrester and ignition source must not exceed 20 times the diameter. For a pipe length exceeding this L/D ratio detonation arresters must be used.